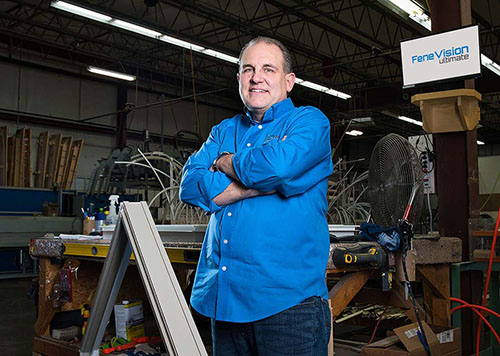 The collateral effects of a pandemic weren't foremost on FEN-TECH President Pat Heytens' mind when his company went live with FeneTech's FeneVision ERP solution in January 2020. His reasons for seeking a better ERP system were far more straightforward. "We're a highly specialized company, and we need highly customizable software."
A unique company with specific needs
Superior, Wisconsin, is located on the western corner of its namesake Lake Superior and is home to window and door manufacturer FEN-TECH. Since opening their doors in 1992, FEN-TECH's business plan was to take advantage of their mid-continental location and become the premier specialized openings supplier for the fenestration industry.
"I honestly don't know what we would have done without FeneVision"

Pat Heytens
FEN-TECH creates specialty-shaped windows, patio swing doors, and garden windows. This specialization sets the company apart from most window and door manufacturers, and their distinctive products require an ERP system that can handle unique practices and processes. That's where FeneVision came in.
Why choose FeneVision?
In the process of uncovering all that FeneVision could do, Pat discovered that FeneVision could significantly change the way FEN-TECH did business. "FeneVision can help us do everything that we want to do. It opens up a lot of opportunities for us to do some things we didn't even realize we wanted to do." Once he saw the possibilities of FeneVision CORE—FeneTech's signature solution, Pat was eager to find out what more the software could do.
FEN-TECH experiences the possibilities with FeneVision
More than any of their previous systems, he discovered that FeneVision CORE could better manage FEN-TECH's high-volume ordering, easily track production at every station, and provide reporting beyond FeneVision's already substantial out-of-the-box capabilities.
"We do a lot of ordering out—laminated glass, tempered glass, grids, curved extension jambs—things we don't do in-house. FeneVision gives us the ability to order those automatically. We can also see, from a production standpoint—have these items been ordered? Have they been received?"
Pat also sings the praises of FeneVision's tracking capabilities. "Tracking different stations' progress within the plant on any given day was a challenge. Before FeneVision, we'd dump a schedule on the floor, and we'd never really quite know where we were. With FeneVision's 'Incomplete Items' report and the ability to look at completions within a station, we can get an accurate picture of where we are throughout the day."
Another feature that has improved the flow of production is FeneVision's reporting features. "We never had good reporting capabilities in the past since we had to pull data out of one system and put it into another. FeneVision gives us not only robust reporting features but the ability to create custom reports." With FeneVision CORE's successful implementation, Pat wondered if taking their glass yields to the next level would provide the company a solid ROI.
Improvement in glass yields
After weighing the benefits of keeping their existing glass optimization software versus transitioning to FeneVision (which could be seamlessly integrated), FEN-TECH decided the addition of FeneVision OPTI would significantly impact their production. And it did—by providing status updates and inventory control. "Adding OPTI was a great choice. Everything we do is geometric shapes, and the increase in optimization with FeneVision's nesting feature was one of the better decisions we made. Having all that information in one spot is instrumental. Our yields have jumped 15 percent compared to our previous glass optimization software."
The right solution at the right time
In the early weeks of February 2020, the enthusiasm surrounding FeneVision's implementation was soon overshadowed by news that the first coronavirus cases had reached the US. Fortunately, FEN-TECH had gone live with FeneVision a few months before the first wave of COVID cases hit the US. This advantage gave FEN-TECH employees and FeneTech's implementation team time to fine-tune the company's production.
"Again, it was the ability to track stations and fine-tune our scheduling that enabled us to be successful during a rather stressful but surprisingly busy time. If any one of our stations were to get out of balance, it would have affected the whole plant. Before implementing FeneVision, that discrepancy wouldn't have been noticeable for one or two days. We needed a way to monitor what we had. FeneVision's ability to do that was invaluable. It allowed us to better manage our business during an extraordinary time."
When asked to summarize FEN-TECH's FeneVision Experience, Pat reemphasized customization. "Every one of our customers has unique demands. With the range of customers we have, I can't say enough about FeneVision's customization capabilities. It's allowed us to do things we've never done before." And he doesn't stop there. "I've never experienced a more organized, well-oiled company than FeneTech. From start to finish, everything was detailed, organized, and validated. At all times, we knew exactly what we were doing, and the progression through the whole process was a very positive experience."
Pat is confident that FeneVision can take FEN-TECH to the next level of excellence and beyond. "My goal is to have FeneVision make as many decisions as possible without having to get input. And it can do all that."
Reflecting on the bizarre year that was 2020, Pat stated unequivocally, "I honestly don't know what we would have done without FeneVision."