FeneVision ERP Modules
FeneVision is designed as a series of modules that work together to provide the most comprehensive ERP system for the entire fenestration industry. Whether your company fabricates glass or produces windows and doors, FeneVision ERP software is the solution that has proven time and again to make the greatest impact on your production.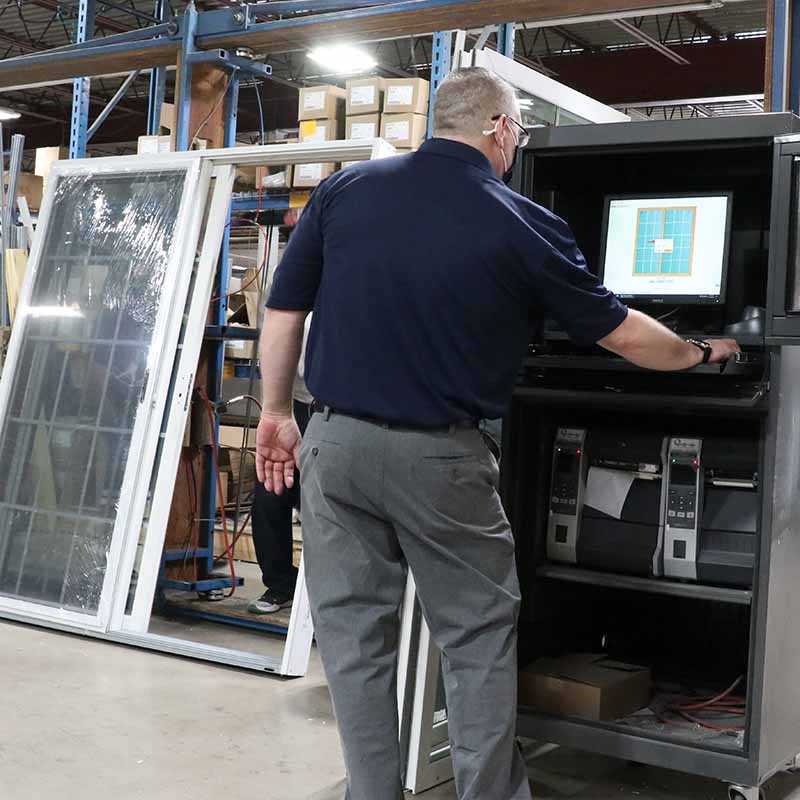 Customer Service Modules
FeneVision CRM
FeneVision CRM module, designed for salespeople or CSRs, is a centralized system for scheduling tasks with customers or prospects and recording the details of all interactions with these contacts, such as tasks, phone calls, notes, and appointments. Additionally, the module allows users to track lead sources and report customers' activities. The CRM module works on smartphones and tablets via a standard web browser, making real-time data available anywhere, at any time. The Dashboard-type reporting for customer activity displays order activity, sales by product, RMA count by customer, and quote activity. Additionally, documents and files that detail projects can be attached to these reports. FeneVision CRM is one among many modules within the entire FeneVision ERP system that window and door manufacturers can use to improve their business.
FeneVision RMA
FeneVision Return Merchandise Authorization, or RMA, is a module designed to process customers' return requests. Users entering RMA requests select the workflow the request will follow—the options include actions that define what happens to the merchandise upon return and ensure that the merchandise is expeditiously handled. RMA requests are associated with the FeneVision Mobile Delivery application so that drivers are informed of the need for pickup.
FeneVision WEB
FeneVision WEB is a completely integrated addition to FeneVision CORE that allows user-friendly web order entry for dealers and customers. FeneVision WEB users enjoy a full complement of customer information tools such as order status, order history, and delivery status. No additional configuration is required and users can assess the module from a password-protected link on an existing website.
FeneVision Accounting Interface
FeneVision Accounting Interface connects your enterprise accounting system to FeneVision CORE. It provides information to a standard manufacturing accounting system. A variety of accounting packages are supported.
FeneVision ISM
FeneVision has you covered when managing the various details of services you provide beyond production, such as installation and post-installation support. The FeneVision Installation and Service Module (ISM) plans and prepares all the resources associated with these services. FeneVision ISM integrates with various existing FeneVision Modules such as RMA and Service Wizard to facilitate scheduling, pricing and costs associated with performing on-site service tasks.
Production Tracking
FeneVision Tracking module can be added to FeneVision CORE to provide production location information for plant management and floor workers. The application's two tracking methods can be located in key production areas in your manufacturing facility. These production stations collect intermediate production status information and visually display key production information to station workers. This collection of production information allows the FeneVision Business Intelligence module to provide real-time production data to plant management and customers. FeneVision Tracking also triggers reprocessing for rejects and defects in manufactured products.
Trucking
FeneVision Trucking lets you configure shipping routes, load trucks, and print shipping paperwork. Additionally, FeneVision Trucking allows you to reject damaged items before loading them onto the truck and delivering them to the customer, thus reducing the time spent returning and reprocessing goods. FeneVision Trucking was developed in conjunction with FeneVision Tracking.
Delivery
FeneVision Delivery is an iPad application providing the user the ability to display the trucking manifest on an iPad after delivery has been scheduled via FeneVision Route Builder. A supplementary application to FeneVision Tracking, FeneVision Delivery works independently from the user's network and is based on a 3G and 4G network technology, thus expediting the entire delivery process for both the user and the customer (iPads must be purchased separately).
FeneVision Glass and Lineal Optimization Applications and Modules
FeneVision OPTI Glass Optimization
FeneVision OPTI helps you get the most from every sheet of glass. Available as a standalone application or integrated with FeneVision CORE, it supports a variety of standard and non-standard shapes and interfaces with any open architecture cutting table. FeneVision OPTI includes a full complement of OPTI optimization modules to improve yields throughout your operation. Like every aspect of FeneVision, OPTI's design and ongoing enhancements are driven by customer requests and feedback.
FeneVision Lineal Optimization
FeneVision Lineal Optimizer and FeneVision MAX-Opt Lineal Optimization give you two fully integrated options for getting the most from your materials and labor. FeneVision Lineal Optimizer enables you to group common parts across window types, evaluate the splitting of parts to maximize yields, benefit from easier set-up of your bill of materials and total customization of profiles so you can set parameters for individual units and costs. MAX-Opt enables you to optimize across two or more batches in the same schedule and to optimize by unique items or saws.
FeneVision Designer Modules
FeneVision CAD Designer
The FeneVision CAD Designer is a completely integrated multi-user CAD system. FeneVision CAD allows users to add drillings, cut-outs, rounded corners and edgework to both shapes and rectangular glass in order to create technical multi-layer DXF files that include detailed and dimensional drawings for the final customer and for production. Drill holes, cut-outs and internal contours can be freely defined and added to the library.
The system allows for any type of edge processing, such as flat polish, pencil polish, bullnose, miters, bevels and more. These can be applied around all the edges of the glass or individually to one or more edges of the glass with the benefit of adding more edge processes at any time. The selection of edge processing, drill holes and cut-outs automatically drives the FeneVision pricing calculation fully automatically by mapping of option codes to the selected processes. It offers multi-layer technology, allowing users to separate drawings based on components of a main product—a laminated glass build-up with multiple drawings, for example.
FeneVision Shower
FeneVision Shower is a completely integrated multi-user module created for the handling and design of framed and non-framed shower doors. It uses FeneVision's CAD Designer so you can easily create multi-layer DXF files and drawings for producing processed glass items created. The module prices the entire shower door kit including glass, fittings, handles, metal profile and any other parts included in the dynamic bill of material. FTemplate showers, including fittings and accompanying parts, can be created in its powerful graphical designer. Based upon the standard FeneVision Options Wizard, it shows two and three-dimensional views of newly created designs. Models can be rotated on the graphical screen.
FeneVision Shower is independent from any particular fitting manufacturer. Depending upon the manufacturer, an automatic download of catalog parts may be achieved. Shower doors can be combined with normal order entry items such as tempered, laminated or processed glass and IG using the standard FeneVision CORE order entry process. The system is also available as an addition to FeneVision WEB, offering an additional design tool for use by the end customer, which includes EDI transfer of shower door orders to the main FeneVision CORE application.
FeneVision Opening Designer
Customizing window and entry doors has never been easier than with the FeneVision Opening Designer, which allows users to configure customized, one-of-a-kind window and door openings. FeneVision Opening Designer is a complement to FeneVision CORE.
FeneVision Bay & Bow Designer
FeneVision Bay & Bow Designer is a supplementary module to FeneVision CORE that allows for the design of bay and bow windows, including the compilation of every part necessary for production. FeneVision Bay & Bow Designer features a complete bill of materials calculation, graphical display drawings, and full integration into FeneVision CORE.