FeneVision Shower Designer Module
FeneVision Shower is a completely integrated multi-user module created for the handling and design of framed and non-framed shower doors. Template showers, including fittings and accompanying parts, can be created by means of a powerful graphical designer.

FeneVision Shower Designer is unique in that it is independent of any particular fitting manufacturer, handling fittings from different suppliers utilizing the same database.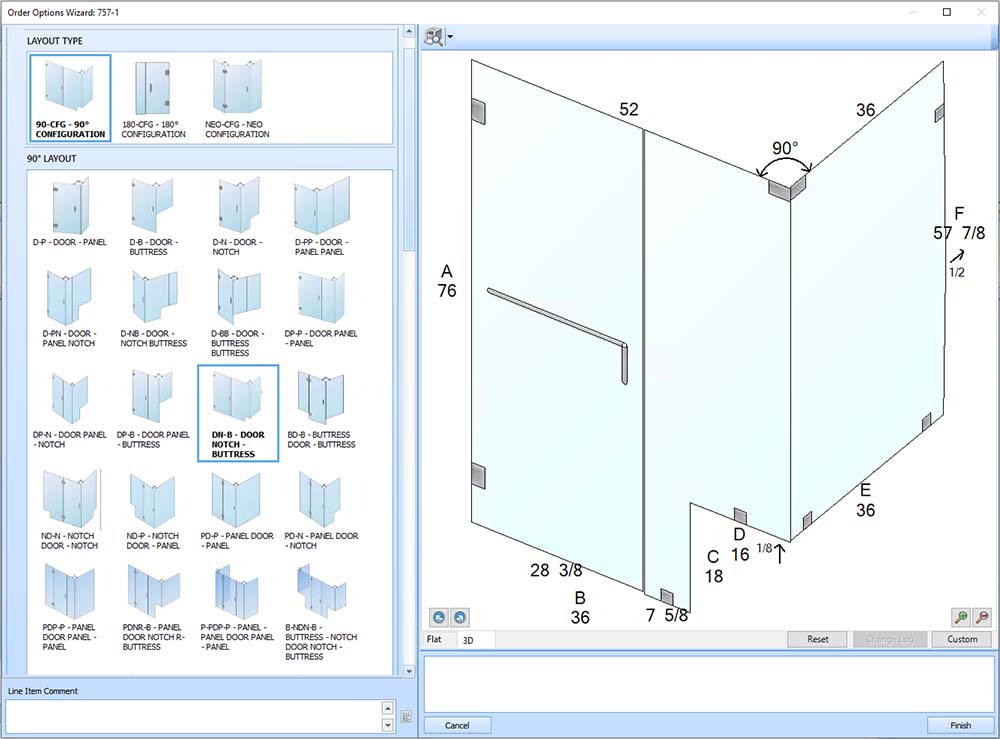 Based on Standard Options Wizard
FeneVision Shower is based upon the standard FeneVision Options Wizard, offering two and three dimensional views of newly created designs. Models created can also be rotated on the graphical screen. Depending upon the fitting manufacturer, an automatic download of catalog parts may be achieved (FeneTech engineering services may be required).
Integrated CAD Designer
FeneVision Shower uses the integrated FeneVision CAD Designer, so multi-layer DXF files and drawings necessary for the production of the processed glass items are easily created. Additionally, the system prices the entire shower door kit including glass, fittings, handles, metal profile and any other parts included in the dynamic bill of material.
Combine with Normal Items
Shower doors can be combined with normal order entry items such as tempered or processed glass and IG or laminated glass using the standard FeneVision CORE order entry process. The system is also available as an addition to FeneVision WEB, offering an additional design tool for use by the end customer, which includes EDI transfer of shower door orders to the FeneVision CORE application.