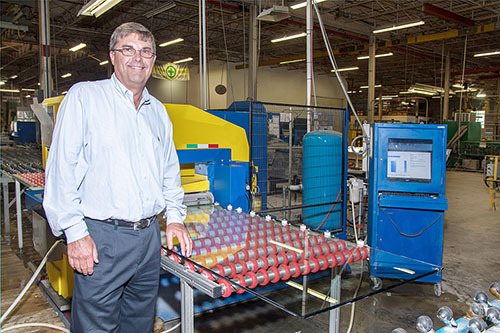 Nestled among the foothills of the Blue Ridge Mountains lies Virginia Glass and Virginia Mirror, whose origins began 103 years ago as Virginia Mirror Company, supplying mirrors to the rapidly growing Virginia furniture business. The resounding success of Virginia Mirror and its expansion into a state-of-the-art silvering line led to the development of Virginia Glass Products in 1956, a subsidiary of Virginia Mirror Company.
Following the economic downturn of 2008, the family-owned businesses decided to further integrate resources from both companies; thus the company is referred to in the industry simply as "Virginia". Today, Virginia Mirror Company remains a leading producer of stock sheets and fabricated mirror while Virginia Glass Products remains a leading producer of architectural tempered glass in addition to its prominence as the oldest manufacturer of all-glass entrances and doors.
Resource Management
"History has shown that we meet our stated commitments, and we know FeneVision will help us support this promise going forward"

L.W. Deal, Virginia Glass Products
Such an impressive resume was not built without some expected bumps in the road. As with any growing organization, Virginia Glass and Virginia Mirror had to find a way to first cultivate then streamline the best of both companies. At the time, the limited capabilities of the company's software in terms of monitoring resulted in many resources that were overbooked. Ultimately, this led to significant growth challenges. Virginia Glass and Virginia Mirror Vice President of Administration L.W. Deal describes how their software solution at the time reduced the company's potential. "The prior software we used allowed us to create some up-to-date reporting, but most time sensitive information was non-existent. In order for our company to supply our customers to the best of our ability, we needed 'live' data on all products at any given time. FeneVision has proven to be the answer to that need."
The advantages of family ownership
Virginia Glass and Virginia Mirror's number one competitive advantage is their brand, Deal points to the company's status as a family-owned business as one of the top reasons for their success. "Our brand as well as our reputation in the industry has been built and maintained over the years primarily due to the fact that we are a third generation family-owned company. This allows us to be extremely nimble, and decisions can be and are made on a moment's notice by local management."
How Virginia Glass fares against the competition
"We build ongoing success by making sure all of us abide by our company values each and every day. At the top of that list is, 'The Customer is King'. History has shown that we meet our stated commitments, and we know FeneVision will help us support this promise going forward," says Deal. "Our philosophy has been and remains 'Complete and Shipped On Time'. We feel that FeneVision helps us not only maintain that philosophy, but allows us the opportunity to build on it."
Facing our biggest challenges
"Our biggest issue this year is maintaining an adequately trained workforce," Deal said. "Due to local businesses increasing, it seems as if everyone in the local economy is competing for personnel from within a very limited pool." To that end, Deal knew that he had to find solutions that would not only be compatible with an existing workforce, but one in which new employees could easily be trained. "Transitioning from a home-grown software system that we used for many years made me hesitant to start all over again. My biggest fear was implementing a new ERP system from scratch, even though this would have given us all the items that management stated on their wish list. We were also concerned about having only limited IT resources at the local level."
And then, FeneVision
Initially, Virginia Glass felt that they could simply import their legacy data into an updated version of their current software package and move forward from there. However, that seemed to be the easy way out, and didn't allow for much growth. Ultimately, the company embraced the idea of starting from scratch with FeneVision. "Boy were we surprised to see what FeneVision literally brought to the table once FeneTech began to give us a demo of all the capabilities FeneVision has to offer."
What Virginia Glass finds most appealing about FeneVision is its seemingly unlimited pool of live information that can be attained through both standard and custom screens and reports. Added to that is the ability to track live location and status of every lite throughout the production and shipping cycle. The software's reporting shows actual gross margin, including internal rejects at the order and product level. And the complete, end-of-month documentation requirements are available on a much more timely basis.
Customization and Flexibility
Additionally, FeneVision has the unlimited ability to satisfy the customized needs of each Virginia Glass customer while still maintaining a base system. The software is scalable so that any unforeseen or future needs of the company can easily be managed. Deal notes that, "In the past, we ran multiple software programs based on multiple platforms. Because of our limited resources, I had required 'off-the-shelf' software running on a single platform that was flexible enough to handle whatever demands were required from our production department. FeneVision gives us not only that, but the ability to have that 'off-the-shelf' flexibility while still allowing complete customization to suit our specific requirements. Even after upgrades are made, we know we won't lose the hard work that has brought us to where we are now."
"I would recommend FeneVision to any company in need of a technological solution for their business. I base this on my experience with the multiple ERP product demos that our group has taken part in over the past 15 years. FeneVision is configurable and flexible enough to support many products lines. And, based on what we learned during the last User Conference, the software is continuing to evolve to fit our future needs."