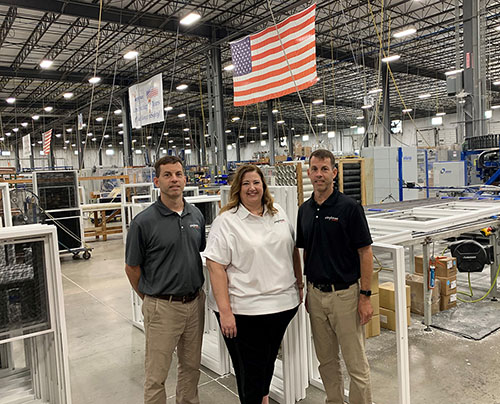 Laura Doerger-Roberts, president of Vinylmax Windows, is an awe-inspiring presence in the window and door industry—a direct result of her and her family's indomitable work ethic and their shared passion for the company's mission—Prioritize the Customer Experience. Make exceptional windows. Do the right things.
A family-owned business that began in 1982 with a mere 50-window per day capacity, Vinylmax founder and Laura's father Jim Doerger eventually passed the torch onto his children, but not without repeating a company-wide caveat that has become an oft-repeated mantra among the Vinylmax family: "Decisions should be grounded in reason."
The Doerger patriarch had every reason to caution his children. The family recalls that, in the early 1990s, Vinylmax, whose exponential growth led to some alarming consequences, found themselves in financial trouble by trying to do too much too fast. Whereas other window and door manufacturers would have closed up shop, Jim Doerger instead pulled himself up by the bootstraps and informed his family that, "Anything can be overcome with hard work." And with Jim's leadership, they did just that and climbed out of that hole. From this experience, they had learned that, indeed, all decisions should be grounded in reason.
After the lessons learned from their close brush with catastrophe, Vinylmax flourished throughout the ensuing years; giving Jim the confidence to turn over to the next generation the company he had built from scratch. Their most recent acquisition of PVC industries in upstate New York has further strengthened the company as an industry leader and provided a gateway into the heavily populated New England market. Even before this latest expansion, though, Vinylmax knew they needed to make some changes in terms of the software they used to not only run their production but to create the best possible customer experience.
Resolved once more to make decisions that were grounded in reason, they began looking at FeneVision. With FeneVision, they learned that the customer experience was not just part of their mission statement, but was also a cornerstone of FeneTech's—to provide the best products, service and support to each and every customer, every single day. Once implemented, the company discovered that FeneVision WEB, which serves over 500 of Vinylmax's customers, proved to be a seamless experience. "The tool is intuitive and easy-to-use, and it frees up our employees to do what they do best—manufacture outstanding products."
Vinylmax's industry-leading 4-day lead time and 99% on-time delivery percentage would also not be possible without FeneVision. "Part of the customer experience is getting the product to the customer as quickly and as efficiently as possible. FeneVision guides us through that process."
Familiarity often stands in the way of growth, but Vinylmax was determined to push through their doubts. They had used another system for 20 years before deciding to make the change to FeneVision. "Naturally, the fear of the unknown was our biggest obstacle. We also had made so many customizations with that software, and we were afraid we wouldn't have that same flexibility." And, now with FeneVision? "We have that flexibility. We absolutely do."
Before executing such a change, though, there was another factor to consider. "We were up against a deadline with our old system, so once we decided upon FeneVision, our implementation timeline was less than a year. That was really difficult for us—how could we possibly do this in six months and do it for the way we want to do business?"
That six-month window may have seemed daunting at the time, but the energy Vinylmax and FeneTech put forth during the process was well worth it. "The biggest benefit with FeneVision is that we can configure it to fit exactly what we do. As our business grows—and our customer service department, in particular, grows—we're able to onboard our employees much easier because of FeneVision's ability to allow users to enter orders that have exceptions. Again, it supports the way we do business."
When asked what part of FeneVision Vinylmax could not possibly function without, Laura kept coming back to FeneVision WEB. "Using our old system, our customers were placing orders online, but it was very cumbersome." Laura listed some additional benefits of FeneVision. "Managing complex pricing scenarios are much easier with FeneVision, and having an automatic workstation-based quality alert system within the manufacturing process is key." Moreover, with FeneVision's enhanced shipping capabilities, their shipping management has markedly improved.
Vinylmax has a simple yet passionate mission: Prioritize the Customer Experience. Make exceptional windows. Do the right things. Becoming partners with FeneTech and implementing FeneVision was the right decision for Vinylmax because it allows them to continue making exceptional windows.
You could say that FeneVision was a decision grounded in reason.