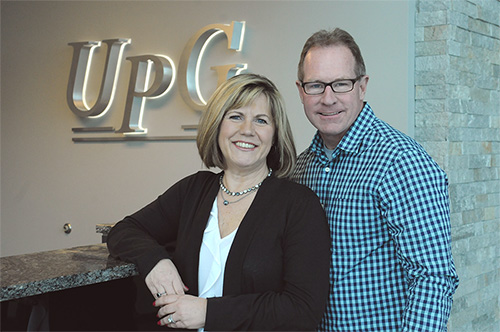 Businesses today are faced with all kinds of challenges. Simply surviving the competitive landscape that exists is tough enough, but actually thriving in it requires something extra. By focusing on the right combination of people and technology, United Plate Glass has done just that—and then some.
Located just northeast of Pittsburgh in Butler, Pennsylvania, United Plate Glass (UPG) is a family-owned and operated company whose extraordinary growth throughout the past two decades has necessitated not only the addition of two new buildings but the creation of a second facility in Lincolnton, North Carolina. From their start as an auto glass and boxed glass distributor, they moved into glass fabrication, and are at present a successful, full-fledged, state-of-the-art glass manufacturing facility.
"We shouldn't have to conform our business to fit the software, and FeneVision allows us that flexibility."

Mike Cully, United Plate Glass
Owner Mike Cully, along with his wife Joyce who acts as the company's controller, are very hands-on and involved on a daily basis. He and his entire management team make sure that their fingers are on the pulse of UPG, are very accessible and personally invested in growing and maintaining customer relationships.
Great employees are the foundation of success
UPG's primary focus on exceptional service which is customized to each client's needs is made possible by their outstanding employees. Mike and Joyce refer to that solid foundation as the strong driving force behind realizing their vision for UPG. Company initiatives stressing employee engagement, such as monthly company-wide meetings, have become an integral part of UPG culture.
Just as important as employee engagement is arming them with the best tools to succeed. UPG has always reinvested in itself as it has grown. From the equipment on the production floor to the software used to bring it all together, UPG is committed to making the most state-of-the-art technology available to their most important asset—their employees.
Growth and change
In 2012, UPG decided that experiencing such rapid growth necessitated an investment in an ERP software system that would grow with them. Decisions about how to handle expanded production were challenging, as metrics or optics to tell them what was working and what wasn't were cumbersome to verify. It was ultimately FeneTech, with their commitment to working closely with UPG's shop floor managers and IT professionals, and whose software solutions provided the business intelligence they needed, that sold them on the FeneVision solution.
UPG has found that the ROI with FeneVision speaks for itself. "We are able to hold people accountable for their actions. We can also notice trends and get them resolved immediately. The information we want and need is right at our fingertips."
Running production with FeneVision
"What we like most about FeneVision is its flexibility. You can tailor it for the way you run, not the other way around. We shouldn't have to conform our business to fit the software, and FeneVision allows us that flexibility." The ability to integrate between CSRs entering orders and the activity on the production floor is a benefit that the company did not see before they implemented FeneVision. Office staff has complete visibility to what is happening in the warehouse and can, in turn, relay that information directly to the customers.
Prior to FeneVision, UPG employees had no yardstick by which to measure their effectiveness during production. Now the company can make their metrics visible to those responsible for production, so they can consistently and accurately evaluate their performance, which is essential not only to individual success, but to the overall success of the organization.
Added benefits
"We can ensure that we are right on the line between having enough glass to meet our demand, yet not so much that all our cash is on the floor in terms of glass inventory." This real-time inventory management has proven to be an enormous benefit to a company such as UPG. Dynamic optimization, which allows for better yields and the ability to turn around remakes in a timely manner, is also something that UPG, with its focus on quality, has come to rely upon. The company is also excited about its scheduled roll-out later this year of FeneVision WEB, which will allow their glass customers to order their own glass.
A well-developed partnership
The relationship between UPG and FeneTech has been built upon trust, mutual respect, and a strong commitment toward excellence in manufacturing. "We would definitely recommend FeneVision. They are, hands down, the best glass software company out there. They listen to what the customers need and implement these requests in new releases of the software."
Not only surviving, but thriving as a family-owned company in today's business environment is certainly not without its challenges. United Plate Glass has met those challenges head on, and having FeneTech on their team has allowed them to exceed their expectations. More importantly, though, UPG can count on keeping true to their philosophy—personalized service tailored to the needs of each one of their customers. For a company whose first priority is its service, UPG could have no better partner than FeneTech and their FeneVision family of software solutions.