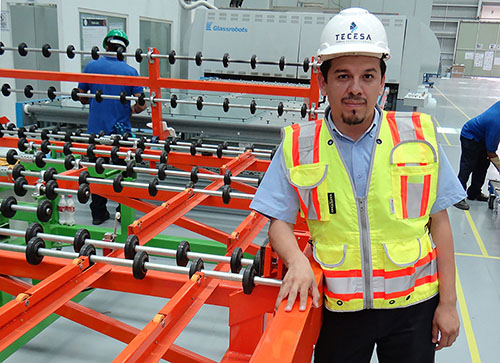 Northwest of Mexico City, the town of Irapuato in the Bajío Valley lies along the Irapuato River. Using irrigation waters from the upper Lerma River, Irapuato has leveraged its unique geography to emerge as an important agricultural and livestock center known for its strawberries, corn, cattle, and pigs. The town is also home to TECESA (Templados Del Centro S.A de C.V.) Architectural Glass, a 250-employee operation that uses FeneVision to run its production.
In business since 2007, a member of TECESA's board of management remarked that with the growth of TECESA came the risk of losing vital production information, something that would turn a good business into a great disaster. In 2010, the company looked to enhance their present system with one that would better meet the needs of their burgeoning operation.
"Before we implemented FeneVision, we were having difficulty keeping track of everything. There was no one who could adequately and accurately keep track of data and do so in real-time. Once we went live, we were able to concentrate on our core business."
Like most FeneVision customers, TECESA's priority is its clientele. "Our primary focus is not on glass but on our customers and their experience with TECESA. In the past, many of our customers have had negative experiences with on-time delivery. We're making it possible for them to trust in us and in our reliability in terms of delivering a quality product on time."
FeneVision's flexibility and willingness to support its users was a crucial selling point when TECESA began considering a software solution. With FeneTech's strong Hispanic presence within their employee ranks, the online and in-person support in Spanish made TECESA's decision to implement FeneVision an easy one. "Being certain that at all times someone will always pick up the phone in our language to make sure we can keep going is priceless."
Curiously enough, when asked if he would recommend FeneVision, TECESA's board representative flipped the script and replied with a gleam in his eye and a wry smile, "No. I would definitely not recommend FeneVision. We're walking above the clouds in every aspect with this system. Why would we want to give our competitors that advantage?"
Fair enough, TECESA. We're just happy that you're experiencing such great success with FeneVision.