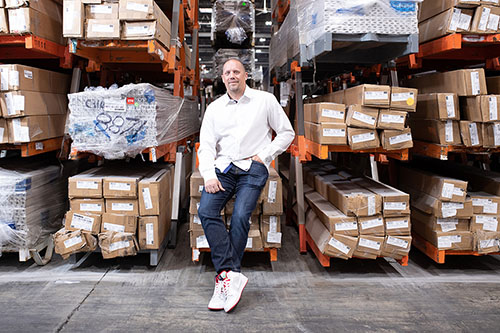 Located on Chicago's South Side, Midway Windows and Doors claims a rich legacy of unmatched quality and unparalleled customer service—a distinction that has earned this manufacturer of new construction, replacement windows and patio doors the unrivaled devotion from their customers throughout the Midwest.
Midway culture
Vice President Artie Strauss describes the family-owned business in humble terms. His grandfather Arthur started Midway in 1964, eventually passing the torch to his son Art who remains at the helm with his son Artie involved in the day-to-day business. Midway's family-like culture is apparent when listening to Artie describe his relationship with the company's 230 employees, who have undoubtedly contributed to the company's success.
"FeneVision is one of the best decisions our company has made."
When asked to name their number one competitive advantage, without hesitation, Artie replied, "Our people. We have the best people, and our customer service is top of the line. These people will bend over backward to help our customers."
Change is good
Until 1998 Midway was a Certainteed® window fabricator. However, once they decided to do their own fabrication their way, the dynamic changed. Despite not knowing how their customers would take to this new idea or how their employees would handle the transition, Midway found that change was a good thing. "Being on our own and controlling our destiny turned out to be a lot easier than having a major company behind us. We found we could control all aspects of production."
In the ensuing years—and with the knowledge that they could manage a transition and come out ahead—Midway sought a better software system to manage their business. Their biggest fear, though, was the process of changing to something more modern and streamlined. Getting those valued employees on board with a new ERP system would not be an easy task, but past experience informed their decision to explore new possibilities.
Among the many elements they didn't have with their existing software system was customization. Midway knew they first needed to customize certain features and then find an effective tracking and shipping system. It didn't take long for Artie and the others at Midway to realize that FeneVision was the whole package.
When discussing the thought process while searching for an ERP, Artie said, "As we started to grow, we knew we needed a system that offered us a partnership—a company that had the best interests of our business in mind. We wanted to partner with a company that shared our philosophy about the value of our customers."
A better way to do business
FeneVision's front-end capabilities were the tipping point for Midway. "We needed a better way for our customers to enter quotes. Once implemented, FeneVision WEB helped us enormously in improving our quoting process by providing a far better user experience. All our customers love it. With our old remote quoting system, some of our more seasoned customers wouldn't even use it. And, half my day was just spent managing it. Now, with FeneVision WEB, customers can jump in after an hour's training and enter quotes in real-time with much better feedback on order status. Our CSR's can handle more customers. It's made a huge difference."
Promises made, promises kept
During the decision-making process, FeneTech was up-front about proposed enhancements to the software—enhancements based on user feedback. "The things FeneTech said they were going to do, they actually did. That was a very big deal." And that implementation process? Through solid training, Midway found the things they needed out of the software—like customization—could be achieved.
"The fact that this system is so fully integrated from—order entry through shipping—gives all of us on the operations side of this business the ability to see not only what we have to do, but what others on our team have to do."
FeneVision is always there
Finally, Artie noted that the opportunity to network with others in the industry and to have the company's ideas heard and acted upon is unique among other providers. "Take the user conference: No one in the industry does it quite like this. No one deliberately brings in competing companies to an event like this to network among competitors, and few companies are as eager as FeneTech is to hear from their customers about their needs. We find great value in bringing as many of our people as we can so our employees can see what is available within the software."
Now that they are well into their third year with the software, Midway is more than satisfied with their decision to implement FeneVision. "FeneVision is there when we need them. Whenever we need any kind of help, they're always there. We wanted a partner and got one. Our relationship with FeneTech and FeneVision is definitely a partnership we value."