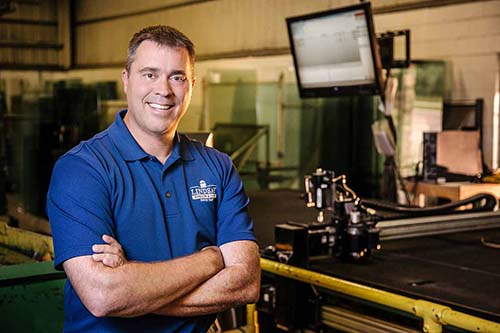 "People evaluating ERP systems today want to know whether the software will help them grow," says Geoff Roise, owner of Lindsay Window & Door in North Mankato, Minnesota. "FeneVision has certainly helped us grow as we've expanded from two to six locations over the past several years."
This includes getting FeneVision ERP up and running at new locations in under two weeks, Roise says.
Lindsay was started in 1947 to make wood sash replacements. It evolved into a vinyl window company, which Roise's father bought in 1989 and Geoff joined in 2001. The company now fabricates windows in Illinois, Missouri and Georgia in addition to Minnesota."Lindsay has always been family owned," Roise says. "We have six locations now, but It's still about family and values. We look for opportunities to help people inside and outside our business."
"Our people rely on FeneVision as a critical component to their jobs and success.

Geoff Roise, Lindsay Window & Door
This means always going the extra mile and looking for ways to improve quality, add options, shorten lead times and exceed expectations for Lindsay's contractor, lumberyard and distributor customers.
"We manufacture a window we put in our own homes," he said. "We respond faster. We provide superior customer service and fix problems fast. We allow our locations to manufacture products optimized for the customers in their geographical region. We listen to customer feedback and take their input into account when designing and building windows."
While Roise worked in finance and accounting at big consulting firms before he came to work for his father, people often think his background is in engineering because of his deep interest and knowledge in production and technology.
"After I started here full-time, we saw that we were outgrowing our home-grown production software. We wanted something that could take us to the next level," Roise says. Lindsay's managers looked at a number of solutions over a few years but never got serious—until they discovered FeneVision.
"We really liked what the system could do, but the thing that really drew us to FeneVision was the people. We saw they weren't just going to treat us like one of many. The product and the people matched up well for who we are."
"Just like we do with our customers, they pay attention to our needs and made it happen."
Information is key, he says, particularly with four integrated locations. FeneVision has become the hub for Lindsay's teams, locations, customers and suppliers.
"Our experience is that good current information leads to better decisions and results. I feel like you have to have a system like FeneVision. I certainly wouldn't want to operate without it!"
Roise has FeneVision send regular reports automatically to each Lindsay team and customer. Production managers, sales people and other decision makers receive reports with key business statistics by email from FeneVision every day at 5:30. Customers get a weekly statement and order status.
"We don't have to worry about data in different systems or databases because all our locations share one FeneVision database. We can easily move production to another facility and all our reports are unified. It's working phenomenally."
Customers can also log in to the system at any time to check status and create their own estimates and orders. "We've found by having the right data, we're able to provide our customers an even higher level of reliability and success," he says. "It's one more reason people enjoy doing business with us."
"Our people rely on FeneVision as a critical component to their jobs and success. With FeneVision, computer operators can look and see what they've done, what they're doing and what they have to do. We know how many more units we have to build. We know the right units are on the right truck."
Lindsay scripts its own reports in FeneVision and Roise likes how flexible the system is for configuring products and services.
"We can customize a window line quickly including pricing, usually with a base price plus options," Roise says. "Customers often want a new, specific or exclusive feature, and we can almost always make it happen. We even offer them a glass breakage warranty."
It also helps Lindsay save money.
"FeneVision allows us to purchase raw materials without guessing what we need. Its glass optimization allows us to reduce our scrap, improve yields and reduce labor. And we save money and time at our cutting stations with the Max-Opt lineal optimization. Not only is the information better with FeneVision, it provides improved yields and labor saving."
While Roise is now making most of the day-to-day decisions, he still enjoys working with his father on strategy and management. Together, they have a very long-term outlook in the business. They know their success starts with their employees.
"Our ability to grow and expand comes through finding really good people and setting them up to succeed," Roise says. "Our people are most important. But right after that, and I mean right after that, is FeneVision.
"If I'm starting over, FeneVision is a must buy. When we buy equipment, it has to run with FeneVision or we are not buying it. It is more important than any machine. From a sales and an operations standpoint, it's the system you want. Our customers and all our team members rely on it."
"We have the best system. And we have options we can offer and do more. We can do the right thing for our customers, team members and supply partners in the Lindsay Window family."