Carriage House Door managers knew the company was successful, but they lacked immediate insight into the many custom garage doors they make each week.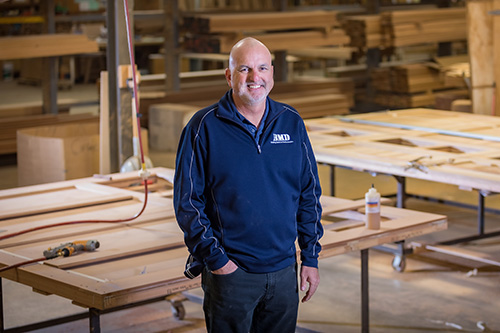 "The challenge," says Shawn Guthrie, director of manufacturing for Carriage House Door, "is how do we improve without dependable visibility? We needed to know more than the gross numbers to grow and improve the experience for our customers."
Carriage House Door handcrafts gorgeous wood garage and swing doors and gates for high-end residential and commercial customers nationwide, produced at their California and North Carolina facilities.
Gaining Insight
Previously, gaining an understanding of individual units was time-consuming since it had to be done manually. And their most current inventory status reports were lagging in an operation where it took an average of seven to ten days to produce a door.
"We're seeing real benefits in the insights into our business, including inventory, job costs, and productivity,"
When every unit made is different, and raw materials are perishable, immediate data is valuable. And at Carriage House Door, nearly everything on the floor is different in some way.
To facilitate continued growth, the company needed to align manufacturing systems across plants and gain immediate insights on production and inventory.
After being purchased in 2017 by Building Materials Distributors (BMD), Carriage House Door decided to look for a make-to-order ERP system backed with comprehensive implementation support.
"We were doing calculations manually," Guthrie says. "We had to invest hours to understand each door. We needed additional insight so we could deliver more value to our customers."
The company eventually chose FeneTech's Q2S ERP. The result? "We're seeing real benefits in the insights into our business, including inventory, job costs, and productivity," says Guthrie."
Pricing Consistency
BMD IT Director David Chalaire says FeneTech's Q2S's rules-based and dynamic bill of materials is vital for Carriage House Door's highly customized manufacturing process.
"With all the variables, the realistic number of different units CHD can price and make is astronomical," Chalaire says. "FeneTech's Q2S BOM makes it easy to manage this complexity."
Pricing accuracy and much quicker quoting for faster service to their customers are two additional benefits Guthrie sees.
"FeneTech's Q2S allows us to price consistently for our customers," he says. "We were creating rough estimates in an outdated manner, relying solely on the expertise of whoever did it. The software allows us to create a more accurate, dependable and quick experience for our customers."
Scheduling and Inventory Under Control
Scheduling at the California plant used to be completed with a manual scheduling process. The system worked when the company only had 20 orders in the plant. But as Carriage House Door grew, soon that system was insufficient—and only one person could schedule.
Additionally, inventory used to be entered manually into the company's accounting system and was always one week behind. With a typical production time of seven to ten days, the lag was problematic for running the business effectively.
"We reconcile every month," Guthrie says. "We needed a system to control inventory and track WIP in real-time."
Visual Display for Error-Reduction and Efficiency
Carriage House Door is also benefitting from FeneTech's Q2S' use of display objects, which, among other things, helps reduce the need for CAD drawings.
"We make handcrafted products and can make any design. We say they are all the same but different. It's very labor-intensive," Guthrie says.
"FeneTech's Q2S' visual capabilities help ensure our quality standards by confirming we're working on the right project and relieving material for the right job."
Improving yield and quality is part of Carriage House Door's manufacturing excellence standards, he adds. The 40 to 60 pieces of wood in a typical door are color and grain sorted to match. As everyone in millwork knows, inventory is perishable whenever a longer or larger piece is cut to fit a job.
"FeneTech's Q2S allows us to refine our process and BOM and capture variations to make sure we're doing the right job and achieving our high standards for quality with our custom doors."
Rapid Implementation That Worked
The standard implementation for a manufacturing ERP is eight months. Carriage House Door had FeneTech's Q2S up and running at both locations in a little more than five.
Chalaire, who has completed more than a dozen large scale ERP and MES implementations as an IT director, is impressed.
"They supported us going from an environment with no ERP and no accounting integration to a fully functional and robust ERP integration in two different locations on both coasts in fewer than six months," he says.
"It felt like the success of the project and Carriage House Door was every bit as important to the entire team at FeneTech as it was to us," he said. "Their energy, attention to detail, quality of work and desire to make sure it was a success was impressive."
"As the inevitable challenges came up during implementation, the FeneTech team was right there with us to develop and deliver workable solutions," Chalaire said. "We held their feet to the fire, and they responded admirably."
Guthrie adds, "We weren't surprised. FeneTech's Q2S earned our business by entering our actual data in the demonstration and showing us how it worked. And they were very good at understanding our process and products and being dedicated to the project."
"It's been a good experience, and they got us to where we needed to be. I think we are leaps and bounds ahead of where we were. The new visibility into our business will prove advantageous to the experience we provide our customers."