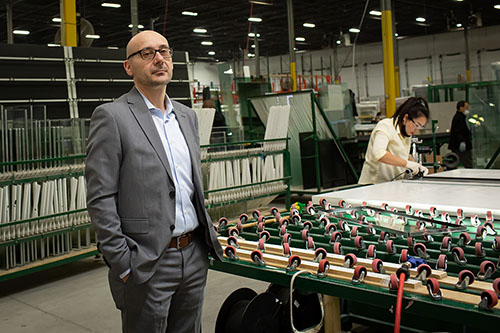 Unlike most start-ups, the founders of Toronto-area Stage Windows & Doors began their business with a lifetime of experience behind them. As such, they knew that to be successful, Stage needed the industry's best machinery and equipment supporting them. Their philosophy includes developing strong and lasting partnerships with these providers. That didn't change when it came to finding an ERP solution.
Setting the Stage
Among the driving forces behind Stage is President & CEO Antonio Colalillo. Along with a team of well-rounded and experienced professionals, he knew that conventional thinking leads most businesses to produce a product as quickly and as inexpensively as possible. He and his team wanted Stage to take a different approach. "We wanted to create high-quality energy-efficient windows designed by a team of professionals dedicated to customer service all while using state-of-the-art machinery and do everything possible to take human error out of the production equation."
« FeneTech is not only delivering a software solution—they're delivering knowledge about the features and functions of the software that we can leverage to our advantage and get the most out of our production."

Antonio Colalillo, President, Stage Windows & Doors
In his quest for the perfect ERP system, Antonio and his team had several criteria. First, the system must control everything related to production—from order entry to shipping. The system must be able to "talk" among its various functions; that is, enter data once, and the system carries the information throughout the process. The system, like the factory itself, must be configured to grow. If Stage decided to venture into other products besides windows, Antonio wanted software that could adapt to that growth. And most importantly, Antonio wanted to work with a software company with whom Stage could develop a true partnership with shared goals and responsibilities—a company for whom providing the best products and service was at the core of their mission. "We didn't just want an off-the-shelf solution."
Flexibility with FeneVision
With FeneTech, the Stage team found the match they were looking for. "FeneVision can make adjustments to what we do, which is sometimes very specific. We feel we've found a team that responds to our questions in a timely fashion, and knowledge about how the software works is not limited to only two or three people. Like the software, the FeneTech team was and continues to be flexible and adaptable—throughout the sales process, the implementation phase, and still today."
That flexibility extended to meet Stage's ambitious yet challenging goal of going live in only six months. "The implementation team didn't bat an eyelash at our timeline and, in fact, brought a fresh perspective to the process. This new way of looking at the task ahead of us compelled us to see things differently and inspired us to push through any fears."
Nowhere is this flexibility more apparent than with Stage's glass optimization. "In our past experiences (before we founded Stage), we had always run our glass in-house, and it was a manual process, disconnected from the main system. Now that our glass optimization is integrated with the rest of the FeneVision system, we have better sequencing at the cutting table. Our yields are remarkably better than any we had experienced before.
A Bird's Eye View
Antonio and his team underscore the importance of having one system that is completely and comprehensively integrated. "It's crucial. We produce according to the master schedule. As production moves along, everyone can see what is being made anywhere on the floor at any time. The benefit is huge. I can't even think how we would do this without the integration that FeneVision provides." With shipping, for example, Antonio likes the fact that everyone can see what is ready to ship and what's not ready to ship, and workers aren't running around the floor clutching spreadsheets trying to manage what's going where. "Instead," he says, "we've got a nice, clear view."
Another feature that the team feels is crucial for Stage is FeneVision WEB, which gives their customers a user-friendly and comprehensive method of entering quotes and orders and tracks their progress. "The ability for customers to build their own products through WEB means that the information they enter comes straight into the system, and we can start our planning." Added to that is the overall consistency of the production schedules—following a more rigid plan means workers can easily see validation issues that may interfere with a product being made or a specific process that the floor must follow.
Branching Out
Once Stage had achieved their primary goal of producing high-quality, energy-efficient windows, they diversified their operations to include entry and sliding doors. "Part of the initial criteria for selecting FeneVision was finding an ERP solution that could adapt and grow with us. With FeneVision, the foundation for expanding into doors was there, and we took advantage of it."
The FeneVision Experience
The Stage team had much to say about the implementation team and the company's overall FeneVision experience. "We've been very satisfied. The cooperation between the FeneTech team and the Stage team means that somebody is always there to support us. We were under lots of pressure with our tight timeline, but with FeneTech, our goals were their goals. We worked together as a unified team, and we feel as if FeneTech is a true partner."
Antonio takes it a step further with this comparison. "It's like when you buy a Ferrari. Once you make the purchase, they actually bring you in and teach you how to drive it so you can get the genuine Ferrari experience. FeneVision is the same way. FeneTech is not only delivering a software solution—they're delivering knowledge about the features and functions of the software that we can leverage to our advantage and get the most out of our production."