"We were traveling in a covered wagon before FeneVision. Now we're traveling in a Mercedes. In a few years, we'll be off the ground in a 737."

—William Calhoun, President, Clearlight Glass & Mirror
Though not your typical glass fabrication company, Clearlight Glass and Mirror president William Calhoun knew that to remain a formidable player in the glass fabrication arena, he needed help to significantly grow this smaller-than-average operation—a shop that primarily fabricates monolithic glass in addition to creating a variety of products including custom glass for high-end exhibits, specialty products, shower doors, and etched glass. Calhoun describes Clearlight as an "artsy yet gritty fabricator." As early as 2018, he began looking for an ERP software provider willing to support and help scale such a unique operation.
"We had just made a significant investment in our facility by doubling the size through new construction and purchasing new equipment. What was missing was the ability to track our inventory and a means to help us with order entry, production, and shipping."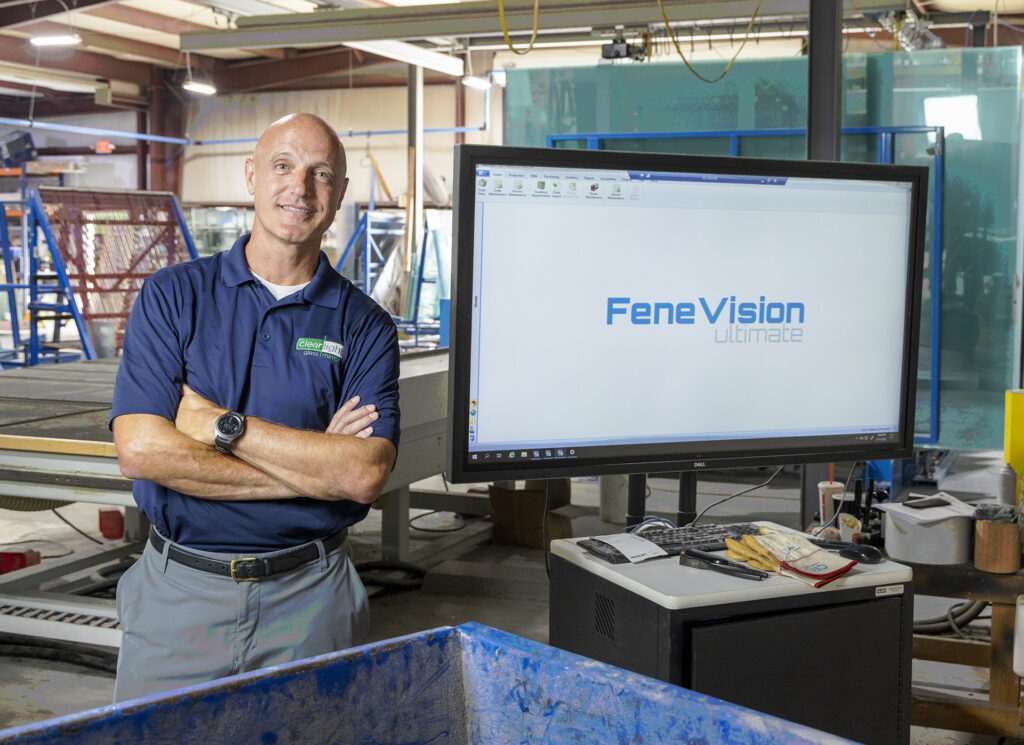 Due Dilligence
As a former practicing attorney, it is part of Calhoun's nature to be judicious. He knew the software a specialized company like Clearlight required would need to be tough enough to manage its complex order entry process. Undaunted, Calhoun spent between four and six months researching the global glass fabrication marketplace and proceeded to query these companies' stakeholders to discover how their providers were helping them succeed. He was especially interested in determining if these solutions would support Clearlight's growth because 'up' was the direction he sought for the company. Calhoun was especially interested in hearing from fellow fabricators using FeneTech's FeneVision solution. Not surprisingly, the satisfaction these companies experienced with FeneVision, combined with all the functionality FeneVision provides, helped reinforce Calhoun's decision to join the ranks of hundreds of other successful companies that placed their trust in FeneTech.
Conquering Complexity During Implementation
In June 2020, Clearlight joined forces with FeneTech. Once properly partnered, the implementation team and a cautiously optimistic, if not enthusiastic Calhoun, began the process of implementing FeneVision into Clearlight's production. "The most enjoyable aspect of the implementation was dealing with the implementation team. They were ultra professional, they were there for us whenever we reached out, and their onsite visits were just terrific. They each went above and beyond what we expected, often helping us with aspects of the process that were outside the scope of what they were supposed to be doing. That really made a big difference for us."
Initially, Calhoun was surprised that a company as small as Clearlight would require such a meticulous and thorough analysis of its operation. "I thought because we were on the smaller side that implementation would be a piece of cake. I didn't fully appreciate all the detail and data entry required. That's when I learned how customizable FeneVision is." And because Clearlight is such a small operation with literally no additional personnel to spare, Calhoun became the de-facto system administrator during the implementation. "It's a testament to FeneTech that a neophyte like me—a person without any computer background at all—was able to make it through this. I really couldn't have done it without the implementation team's hands-on and patient approach."
ROI
Once up and running with FeneVision, it didn't take long for Calhoun to see a significant return on the company's investment. "Twenty-twenty was our best year ever, but we're on track to be up 50 to 60 percent in 2021—this, without any pain from the front office. They're happy they no longer have to enter the shop floor to see what's going on. There is complete visibility right in front of them. Order entry has improved immensely, and the front end of our business can keep our customers updated on their orders, which makes them happy."
That's not all. "The way FeneVision works relieves the guys on the shop floor of the burden of having to program the machines. We've become more efficient and have reduced the types of errors we experienced before. Having FeneVision interact with the cutting table and the CNC machines has been tremendous. It's helped us with efficiency, reduction of errors, and we're much faster than I thought we ever could be. I didn't fully appreciate how the software could help us in those areas."
"On the back end, shipping is so much better. There are fewer missed pieces, and we're more efficient in getting trucks loaded and on their way. FeneVision's interfacing with (accounting software) SAGE has helped Clearlight improve as well—with invoicing, packing slips, and a reduction of errors. It's made such a difference efficiency-wise from beginning to end."
The FeneVision Experience
As a man who has a way with words, Calhoun offered this analogy. "We were traveling in a covered wagon before FeneVision, and now we're traveling in a Mercedes. In a few years, we'll be off the ground flying in a 737. There's no way we could have come this far and continue to achieve our vision for the future without FeneVision."
"Now we can monitor every aspect of the business; we can automate. We have a system in place where the user interface is easy enough to teach to a new hire but sophisticated enough to run the reports we need and monitor the activity out in the shop. It's been a ton of work, but we already see the benefits after six months. FeneVision touches every aspect of our business."
When asked what set FeneVision apart from the competition, Calhoun didn't hesitate. "It's the people over technology—and that's saying quite a bit because the technology is incredible. From the beginning, when we met with the business development team, they understood we were a small shop primed to grow and helped us envision that growth. With this shared goal, it's been a partnership from day one. With FeneTech and FeneVision, I feel like we've got a friend for life."
We appreciate your dedication and investment in the process, Willliam. And yes, the feeling is mutual.