"We continue to experience a great partnership with FeneTech and FeneVision."


Greg Elliot, General Glass
In 1969, Al and Beverly Gauntlet took over the operation of southeast Portland, Oregon's General Glass, as a shower door and bathroom fixture company. They later expanded their interest by purchasing Morehouse Glass Company and bought an 84-inch washer two years later. Thus began General Glass' initiation into the world of IG production. The couple retired in 2002, sold the company to Bakken Industries, and since then, General Glass has continued to market its expanded product offerings throughout the Pacific Northwest and beyond. The company has added tempering, CNC fabrication, horizontal beveling and polishing machines, and custom laminated glass to its repertoire of capabilities.
Since taking over at General Glass, President Greg Bakken and his team have led the company toward exponential growth. From a six-person shop in 2002 to a 20-person shop in 2010, General Glass soon outgrew its first and second ERP systems. CFO Greg Elliott and CEO Kristy Hackworth realized they needed to begin shopping for a better solution. So they did their due diligence by visiting other successfully-run glass fabrication facilities throughout the country.
Though not every company Elliott and Hackworth visited used FeneVision as their solution, the pair saw how updating to a more comprehensive ERP system would increase General Glass' efficiency enough to see a return on their investment in a relatively short time. When they were fortunate enough to witness FeneVision in action—and after speaking with FeneTech business development leaders at GPAD—they felt even more confident to move forward with FeneVision as their solution.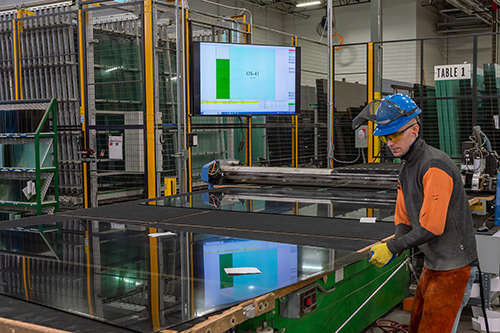 "Kudos to the implementation team for working remotely during the pandemic to get us up and running," said Elliott. "Furthermore, since we've gone live, we've experienced very few urgent issues with the software, no unpredictability, and we've found FeneTech's Support team super reliable."
"Trackability," replied Hackworth when asked what she thought of first when the company implemented FeneVision. "We are thrilled with the ability to see each phase of production in real time." But it's FeneVision Capacity Planning that has made the most significant difference in how General Glass does business."
"FeneVision users underrate the value of Capacity Planning. The visibility it provides is an enormous advantage," declared Hackworth. "Additionally, we're now able to receive and manage inventory seamlessly, the system integrates with accounting, entering orders is intuitive, and we're experiencing fewer workarounds because FeneVision is such a comprehensive tool that it covers all areas of production."
Another game-changer for General Glass has been the filler functionality in FeneVision OPTI. This feature allows scrap spaces on patterns to be used to cut future production, thereby improving yields. Hackworth states, "The filler option adds value to the software since it allows us to add custom pieces easily and vastly increases our yields."
Elliott and Hackwork also expressed excitement over the upcoming addition to FeneVision Shower. "We feel Shower, with its online ordering capabilities, will further enhance our long-term relationship with our customers."
"From CAD, to Capacity Planning, Inventory Management, and OPTI, General Glass has seen a better return on our investment than expected in FeneVision," said Elliott.