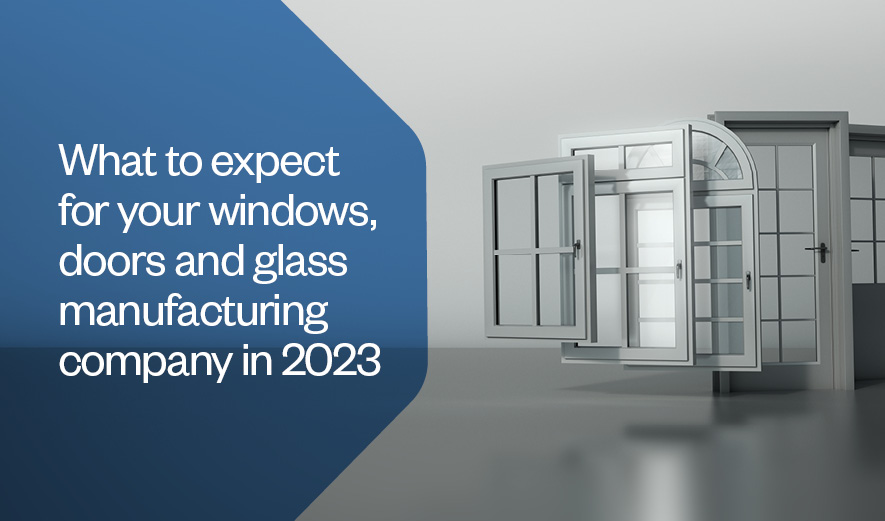 While there's no crystal ball to perfectly predict the future of the windows, doors and glass industry, it's still important to look at industry trends and read the financial forecasts for the sector. After all, this is what decides budgets and drives development.
With that in mind, we collected some advice from industry experts, examined pricing lists for materials and read through trade publications to put together what we believe will be some of the biggest trends for 2023.
Keep an eye on vinyl prices
If you didn't already notice it at the gas pumps this summer, 2022 saw the price of oil reach its highest in 14 years. As you're aware, PVC/vinyl is made from resins—an oil derivative, and of course, vinyl is a critical component in replacement window manufacturing. Therefore, the rise in oil prices resulted in fluctuating costs and supply chain issues for many manufacturers.
Oil prices have come down since this summer, and economists don't expect prices to exceed the highs set in 2022. However, window manufacturers should continue to monitor the vinyl supply chain. This could be the right time to consider optimization tools that increase lineal yields while reducing labor costs.
According to FeneTech's Matt Batcha, a tool like FeneVision MAX-Opt would be a great solution for this issue. The software allows manufacturers to configure optimization parameters by profile. He says, "MAX-Opt enables you to group common parts across window types, balance labor and material costs, and spit parts if it increases yields. Implementing MAX-Opt is a quick and easy process, and you don't even have to be running FeneVision to run MAX-Opt."
Watch for commercial building growth
According to Window + Door, we can expect the growth rate of commercial building to exceed residential in 2023. While the overall numbers will still lean toward residential, the increase in commercial builds will be something to keep an eye on.
As Window + Door suggests, this trend may simply be the result of inflation. With higher costs, there are fewer new homes being purchased and those who already own will them grow increasingly less likely to consider renovations or home improvements if we move toward a recession. However, there is light at the end of the tunnel according to several economists, who see an economic rebound halfway through the year.
Nonetheless, these factors should prompt window and door manufacturers and glass fabricators to pay attention to increases in the rate of commercial building growth and remain flexible with their offerings.
The supply chain is still fragile
It must be mentioned that the expected rate increase in commercial growth comes with other caveats. The impact of the war in Ukraine on oil prices and China's COVID restrictions affecting its status as the world's leading glass manufacturer could both result in serious ramifications for the supply chain.
This is why the glass industry needs to be more forward-looking with investments in raw materials, procurement of inventory, acquiring new technologies and working toward making products stand out.
When there are questions surrounding material availability, understanding what you have and what you can procure is vital to distinguishing yourself from your competitors. This is a tactic emphasized by Syndi Sim of Diamon Fusion International: "When speaking with prospects and discussing a new differentiator in 2023, I discuss offering a protective coating on both sides of all their glass products. Not only will this added benefit increase sales, but it will also help fabricators' customers differentiate their business. As a result, companies can grow their brand, close more deals and impress new/existing customers."
Sustainability remains a focus
With climate change continuing to be a concern for consumers and companies alike, we can expect the demand for energy-efficient products to continue trending upward, now and for the foreseeable future.
The National Fenestration Rating Council (NFRC) is an organization with a mission to help reduce carbon emissions from homes and office buildings. In an article for Window + Door magazine, Michelle Blackston of the NFRC warns that "buildings generate nearly 40 percent of the annual global greenhouse gas emissions." She explains, "This figure includes energy used to heat, cool and light buildings as well as embodied carbon from building materials and construction processes."
Blackston then goes on to praise communities for increasingly adopting building energy codes for their regions to rein in carbon footprints. Consumers, it seems, are taking the need for energy efficiency and sustainability seriously. That's great news. Not only will this lead to an extraordinary benefit for the planet, but it also offers an opportunity for manufacturing companies to appeal to the trend through the introduction of new product lines.
To make things easier, FeneTech's FeneVision ERP supports NFRC compliance by configuring software to produce NFRC labels complete with the manufacturer's code, product and ID number.
Labor could be 2023's biggest issue
Typically, unemployment takes center stage in any discussion of economic forecasts. But with unemployment numbers reaching all-time lows, the issue facing business owners across multiple sectors is finding, attracting and keeping skilled labor. This is perhaps truer in manufacturing than any other sector.
What does this mean for windows, doors and glass industry?
The push for automation in manufacturing began well before the pandemic, and there's no returning to the days before technology and computer-integrated manufacturing. Therefore, coaching the current labor force to best use this technology is paramount. And though it may be difficult to accept the concept of machines functioning with levels of speed, precision and consistency that are beyond human capabilities, the knowledge that more product can be made with fewer frustrating and time-consuming mistakes is worth it.
The key to success in 2023
Looking ahead to the coming year, 2023 seems to be as full of challenge as it is opportunity. The key to finding success will be in turning those challenges and opportunities into advantages.
Cyncly's Window, Door & Glass General Manger Ron Crowl's is positive, but realistic when looking ahead to 2023: "We are in somewhat uncertain economic times, and reading the tea leaves is challenging at best. I think the key to winning in 2023 will be to remain aggressive and active in the market while paying close attention to customer service." 
After three years of unpredictability, those in the industry can be confident that the outlook for 2023 is hopeful. We've come through a global pandemic and weathered economic uncertainty, and now we're poised to emerge from this watershed event better, leaner and more robust than before.
Looking over the expected trends for the coming year, FeneTech's glass fabrication and window and door manufacturing solutions is uniquely suited to help your manufacturing company take advantage of what's to come. We believe in this so strongly that we want you to believe in it, too. To see all that FeneTech can offer your manufacturing company, click here to request a free demo, and make 2023 the best year yet for your business.