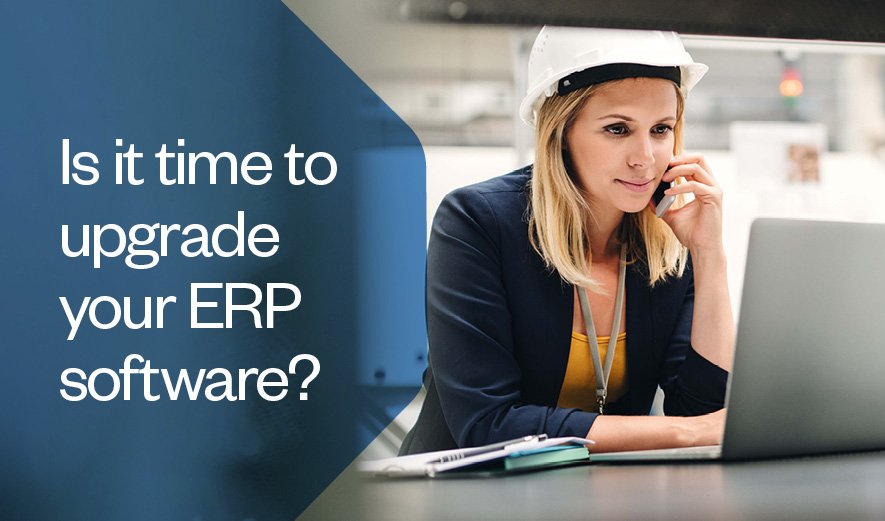 Have you ever seen a photo of yourself from years ago and wondered "What was I thinking," when it came to your wardrobe? It's amazing how the pair of baggy jeans we NEEDED in our teens becomes a cringe-worthy relic from our past when we see it a decade later. Or how a photo from our college days is sure to inspire laughs over how put-together we thought we looked at the time.
That's not to suggest our earlier fashion choices are somehow incorrect. At the time, the clothes we wore fit who we were and fulfilled what we were looking for. People mature, though. Fashion changes. Factors, both inside and outside our control, don't stay the same forever. The t-shirt you wore when you were 14 and meeting your friends at the mall just wouldn't work for the smartly dressed 45-year-old professional on their way to a meeting of a different kind. But neither outfit is better or worse than the other. They both meet needs at different stages of life.
ERP Software
The same is also true of ERP software solutions and the needs of your business.
When you first began the process of implementation, you looked for software to take your business to the next level, improve your production process and, ultimately, grow your company. All those goals may have been accomplished, but that doesn't mean the journey is over. Just like with your fashion sense, things change, and your business matures.
Continuing with the same software without taking stock of your business's development and its evolving needs is the equivalent of wearing the jeans you wore as a teenager for the rest of your life.
ERP implementation is ongoing
There's a sense of arrested development attached to it. To break out of that, the first step is to identify where your business sits in its maturity progression. Is your company fully optimized? Are your processes completely integrated? What is the next "next level" to which you want to take your business?
From there, you need to further identify the steps needed to take those steps. Maybe that means increased mobile functionality or ensuring your system can integrate with a CRM or accounting interface. Or maybe you need to better access data in real-time.
Whatever the steps, the next question to ask is whether your current ERP software can handle it. If not, you've got a really good problem on your hands. It means you've been growing as a company and maturing in the right direction. And there's a simple solution readily available: upgrade.
Beginning the implementation process wasn't easy. It probably took a lot of research and an element of trust to find the right provider to take your business to the next level. If the software you chose has brought you to the point where you're asking yourself the type of questions mentioned above, it's a good indicator that they know what they're doing. Put their development expertise to use, or better yet, tell them precisely what you need to make your production more successful. Chances are, they can deliver a solution.
FeneVision ERP
FeneVision ERP certainly can.
Built from the shop floor up and refined over two decades, FeneVision gives you real-time operational control, insight and agility. Its dynamic bill of materials configurator allows you to price, produce and deliver thousands of unique units daily, complete and on time – even if you work with seemingly infinite product variations. It connects everything and everyone, including your customers' customers. And with ongoing user input, we keep improving it.
But what really sets FeneTech apart is that we recognize your business is on a journey, and we want to play a role in its continued growth and maturity. When you use FeneVision ERP, we view it as a partnership in which your success is our success. That's why we've built it to be a capable, scalable and flexible ERP system.
Of course, upgrading your software isn't an easy decision. There will be additional costs, and there is bound to be a learning curve of some sort. But in the end, you will see a return on investment that surpasses the capital expenditure that made the growth happen. We've seen it so many times in the past and continue to see it today.
To extend the fashion analogy a little bit further, think of FeneVision ERP as the ultimate stylist, here to make sure you look great no matter where you are in your development. We'd love the opportunity to talk to you about your business needs and help you decide if an upgrade is right for your business. Don't hesitate to reach out to our team or request a demonstration to see if we can help or continue to help take your business to the next level.