Two partners, one goal: With its FeneVision ERP system, software specialist FeneTech would round out the Siemens automation and digitalization portfolio for the glass processing industry. That's a good reason to collaborate; initial pilot applications are already in the planning stages.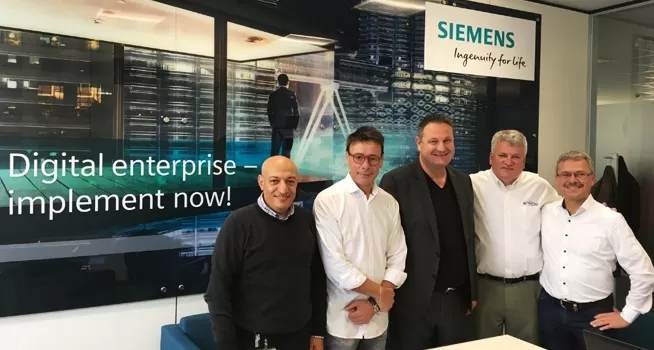 "At the heart of digital solutions from Siemens is the digital twin, a virtual image of plants based on an end-to-end data model. The consistent use of these solutions along the entire value chain in glass manufacturing and processing and throughout the entire life cycle pays off. In glass processing, which tends to be performed by medium-sized businesses, we still require an integrated and customized ERP solution," explains Heinz-Josef Lennartz from Siemens Vertical Glass in Karlsruhe. "In numerous discussions with customers, both we and FeneTech, independent of one another, keep hearing that there is a demand for completely integrated solutions in glass processing."
"With the FeneVision ERP solution from FeneTech combined with Siemens MindSphere, customers would take a big step closer to the digital factory," says Horst Mertes, CEO of Luxembourg-based FeneTech Europe SARL. Ron Crowl, President of FeneTech Inc., adds: "FeneTech has been supplying software products to the glass processing and window manufacturing industries for more than two decades. Industry processes are more efficient because errors are minimized throughout the company. Recent advances in Industrie 4.0 and IoT offer the opportunity to integrate all machinery fully into the ERP software from FeneVision and establish a digital factory. Through the planned collaboration with Siemens, we would be able to bring fully networked and integrated solutions to market faster."
About Siemens Vertical Glass
The extensive portfolio of Industrial Software and Automation seamlessly connects the virtual and real worlds for the glass industry, including with cloud-based systems as appropriate. This allows glass manufacturers as well as plant and equipment manufacturers to integrate and digitalize their entire value chain, including their suppliers and partners. Our teams combine glass- and industry-specific knowledge, from raw materials to the finished product, with expertise in the field, automation, and process management levels as well as at the corporate leadership level and the associated specific IT requirements. We recommend a comprehensive approach for increased transparency in glass production and further processing. The result is increased availability, higher productivity, and improved cost efficiency.
About FeneTech
FeneTech is an international leader in integrated software solutions for the fenestration industry. Headquartered in Cleveland, Ohio, and Luxembourg, the company offers its products and services worldwide.
For nearly 25 years, FeneTech, Inc. and FeneTech Europe SARL has been offering FeneVision ERP software solutions to the fenestration industry —this includes glass processing, window and door manufacturing, sunroom manufacturing, and related industries. In addition to the actual software and regular company new releases, FeneTech offers unparalleled service and support to its large customer base around the globe.