GLASSBEL, based in Klaipeda, Lithuania, has recently selected software specialist FeneTech, creator of FeneVision ERP software, as their new long-term software partner. FeneTech and UAB GLASSBEL finalized the agreement during a meeting in late October 2019 at GLASSBEL's Klaipeda factory.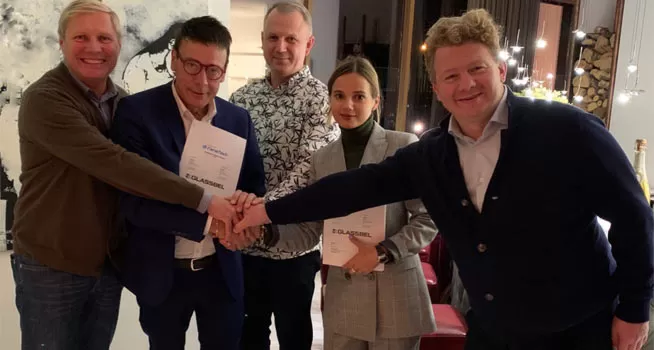 Horst Mertes, CEO of Luxembourg-based FeneTech Europe SARL comments, "We are delighted and proud to have GLASSBEL as a new long-term customer in our portfolio of hundreds of satisfied customers. GLASSBEL is a true innovation leader in the flat glass processing industry and was facing challenges with their existing software solution. Implementing our fully integrated FeneVision ERP software will allow GLASSBEL to streamline all processes and to eliminate existing islands of automation. In addition to flexibility, our integrated and configurable solution will also ensure complete status visibility from start to finish and accurate cost control with a clear vision to solve existing challenges relating to Industry 4.0 and IoT."
President and CEO of FeneTech Inc. Ron Crowl adds, "It is a pleasure for me to welcome GLASSBEL to the family of many happy FeneVision users. This partnership is yet another step in FeneTech's worldwide growth. It affirms that the twenty plus years of developing software for the glass fabrication industry allows us to provide innovative and forward-thinking software products and services to our valued partners."
Valdas Virbalas CCO GLASSBEL states, "A modern and integrated ERP software system is essential for GLASSBEL's future global growth. Because of our demanding architectural and engineering requirements, we need high quality and updated technical services for our glass products. Additionally, we require the same for our internal processes. Data management must be handled with the latest and most advanced software tools, using flawless methods. FeneTech has managed to demonstrate their detailed knowledge of project and glass processing business models, and their global experience working with top glass processing companies proved to us that GLASSBEL could also be playing in this highest league. We strongly believe that this ERP solution will be a great success story for both GLASSBEL and FeneTech."
About GLASSBEL
Since 2001, GLASSBEL has been a leading glass processing company focusing on architectural and interior glass markets. Learn more about GLASSBEL at glassbel.com.